For InterVarsity staff, there are additional resources available by logging into the website here.
The resources in this section are for InterVarsity staff only. If you are on staff, please log in with your staff account for access. If you are not on staff, resources are available to you at gfm.intervarsity.org/resources.
Welcome to GFM New Staff Training! Along with a cohort of new GFM staff colleagues, you are entering a learning community for your first couple years with GFM. GFM's New Staff Training is designed to equip you for ministry with grad students and faculty through a variety of learning experiences and opportunities to practice ministry in the university. Learning assignments will be given throughout the year and form an important part of the learning process. While we trust you will learn lots when we gather for New Staff Training events in-person and online over the course of the year, you will learn the most through consistent practice, prayer, reflection, debriefing, and more practice in the university where you serve. Your supervisor will be an important resource as you talk with her/him about what you're learning through New Staff Training.
Your pre-course assignments are posted in this section of the GFM website. Please log-in to the site in order to view the materials. Look in the menu to the left to find materials for your year of training. If you have questions or can't find what you are looking for, contact Lorrey Thabet.
Seasoned, experienced, and veteran staff, no matter how long you have been on staff, many of these materials are great reminders/refreshers. Please do remember these are for staff only, not for sharing or re-publication. Thanks!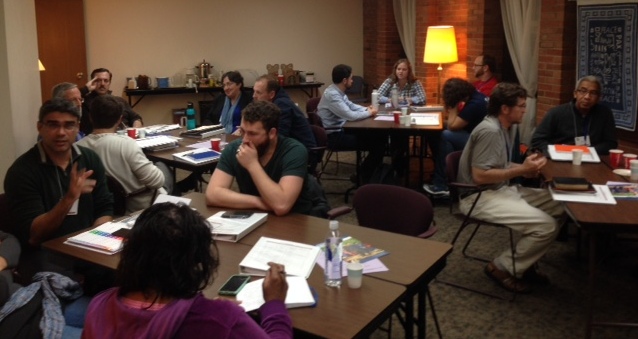 The photo above features the 2015 Year 1 Cohort. Welcome!